Podcast: Play in new window | Download (Duration: 5:22:19 — 368.9MB)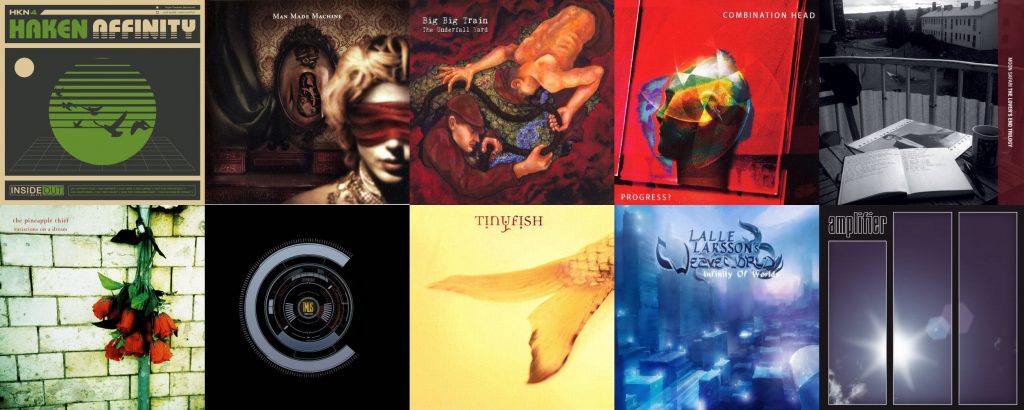 It's Rick Easton's turn to choose his Top Ten albums since 2000 this time around. Rick has been listening to the show since it started in 2008, and he's selected a cracking bunch of tunes for us to enjoy.
Martin is back with Progradar's Picks, of course, and I've put together a mini-theme around the talents of Dave Stewart (the keyboard player, not the guitarist from Eurythmics!).
---
Public Service Broadcasting Feat. Tracyanne Campbell – Progress (03:26) from Every Valley, 2017
Public Service Broadcasting – Signal 30 (03:20) from Inform – Educate – Entertain, 2013
Public Service Broadcasting – The Other Side (06:20) from The Race For Space, 2015
Public Service Broadcasting – Go! (04:13) from The Race For Space, 2015
I Am The Manic Whale – One (Hopeful Song) (07:50) from Gathering The Waters, 2017
Thumpermonkey – This Is Not A Fire (05:04) from Electricity, 2017
Human Pyramids – Big Data (03:40) from Home, 2017
Arzachel – Clean Innocent Fun (10:34) from Arzachel, 1968
Khan – Driving To Amsterdam (09:23) from Space Shanty, 1972
Egg – Wring Out the Ground (Loosely Now) (08:11) from The Civil Surface, 1974
Bill Bruford – Either End Of August (05:24) from Feels Good To Me, 1978
National Health – Brujo (10:17) from National Health, 1978
Bill Bruford's Earthworks – Making A Song And Dance (05:56) from Earthworks, 1987
Dave Stewart & Barbara Gaskin – New Jerusalem (09:21) from The Big Idea, 1989
Hatfield And The North – Fitter Stoke Has A Bath (04:35) from Hatfield And The North, 1974
Porcupine Tree – My Ashes (05:07) from Fear Of A Blank Planet, 2007
Kompendium – Mercy Of The Sea (06:11) from Beneath The Waves, 2012
Anathema – Universal (07:19) from We're Here Because We're Here, 2010
No-Man – Wherever There Is Light (04:21) from Schoolyard Ghosts, 2008
Steven Wilson – The Raven That Refused To Sing (07:57) from The Raven That Refused To Sing (And Other Stories), 2013
Storm Corrosion – Lock Howl (06:10) from Storm Corrosion, 2012
Opeth – Voice Of Treason (08:00) from Pale Communion, 201
Progradar's Picks
Tiger Moth Tales – Hygge (09:13) from The Depths Of Winter, 2017
House by the Lake – Hollow (03:41) from Out Of The Woods, 2017
Premiata Forneria Marconi – We're Not an Island (07:13) from Emotional Tattoos, 2017
Charlie Cawood – In a Floating World (03:51) from The Divine Abstract, 2017
North Sea Radio Orchestra – The British Road (07:25) from Dronne, 2016
Karda Estra – The Happy Breed (05:17) from Mondo Profondo, 2013
The European Perspective Top 250 – Rick Easton
Tinyfish – Motorville (04:54) from Tinyfish, 2006
Carptree – Man Made Machine (06:18) from Man Made Machine, 2005
Amplifier – UFOs (07:28) from Amplifier, 2005
The Pineapple Thief – Remember Us (16:09) from Variations on a Dream, 2011
Cosmograf – Aspire, Achieve (10:06) from The Man Left in Space, 2013
Combination Head – Solid Ground (05:20) from Progress?, 2007
Haken – Bound by Gravity (09:29) from Affinity, 2016
Lalle Larsson – City Of Lost Souls (10:29) from Infinity Of Worlds, 2010
Big Big Train – The Underfall Yard (22:54) from The Underfall Yard, 2009
Moon Safari – Lover`s End Pt. III (Skelleftea Serenade) (24:21) from Lover`s End Pt. III (Skelleftea Serenade), 2012